Situation update #1
Mon, 4 Sep 1995 07:26:34 -0600
Hello all:
Just a quick note to let you know the station road is currently being blocked by pepineros. They are letting people through now, but the situation may change tomorrow. They managed to get into the park compound and held a demonstration (there were guards at the gate, but they came into the park docks). The station docks are guarded, and no one has entered the station area as of the time I write this.
All is calm now, and Chantal is requesting the Port Captain to clear the road. It will be interesting to see if he does so.
I will send more as soon as I have information.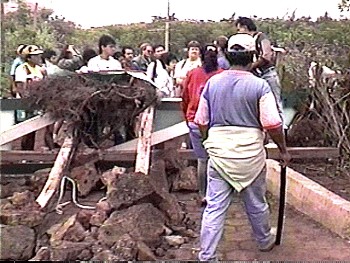 Protesters prevent Station and Park staff from entering their workplace in Charles Darwin Research Station

(Note Protester armed with rubber pipe.)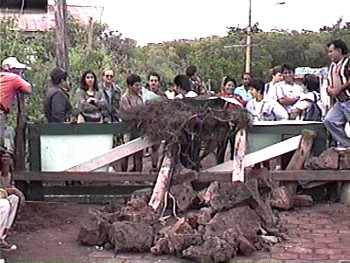 Dedicated Station and Park staff refuse to leave the entry to their workplace.