#13 Thursday Morning
Thu, 7 Sep 1995 08:27:18 -0600
Last few Messages:
--------------------------------------------
Message 7: Tuesday Morning
Message 8: More info
Message 9: Evening situation
Message 10: Wednesday morning
Message 11: Group info and Chantal msg.
Message 12: Malatov Cocktails
Message 13: Thursday morning
--------------------------------------------
We had a generally peaceful night here. The only problem was a rumor among the protesters that there were 75 troops hidden up in the iguana pens.
Chantal got a call from a prominent local pharmacist, who is one of the strike leaders, saying their scouts had seen the troops there. He warned that actions would be taken against the station if this were true. Chantal assured him that she knew nothing about this. The resident military leader said he had no knowledge of any extra troops there.
Captain H... and DJ... (US Embassy) arrived Wednesday evening, and Chantal will meet with them today at 10 AM.
No other news to report. It looks like the Ecuador to US connection is down again this morning. Hopefully it won't take too long to get it fixed.
Jim
[
NOTE: This rumor was typical of those which constantly changed the nature of the strike. It was night, the strikers had been drinking, and threatened to send men in to confront troops that they suspected were hiding in the Station. Strike leaders agreed to accept the word of the Director that no troops were hidden, only if she personally would assure strikers of their absence. She hiked several kilometers up to where the troops were reportedly hiding in the thorny forest, while strike leaders on bullhorns whipped the crowd into a frenzy at the Park offices. Only when she went in person to report to the strike leaders at the Park offices, was the situation defused.
]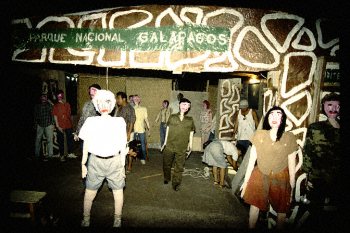 The strike at the Park Services offices.

This life-size papier-mache diorama was created by towns people in their "ano viejo" celebrations on New Year's Eve, December 31, 1995. The well-executed caricatures easily permit townspeople to recognize the individuals depicted. In the rich tradition of "ano viejo", memorable events of the past year are represented in such displays. At midnight the displays are burned, symbolically cauterizing one's memory.